Developing a Customized Strategy to Position You for Success
Companies and their leaders must constantly change and develop to achieve business success. Many times however, the individuals involved need help facilitating that process.
At Atlantic Consultants, we assist your business and its leaders by providing a wide range of training, coaching and facilitation that enables you to effectively execute change in both people and processes, taking your company and its leaders to the next level.
In our Six-Step Success Strategy model, we partner with you to: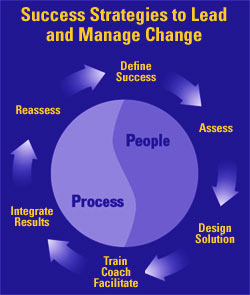 Step 1 - Define Success
We begin by defining your vision of success. You may need to strengthen your leadership bench, resolve communication challenges or create and align everyone within a strategic plan. Whatever the need, we establish a clear and unified definition and, from there, begin to assess your current capabilities in the next step.
Step 2 - Assess Current Capabilities and Development Areas
Whether your goal is to improve the people or the process side of your company, our assessments detail where you are in your current functioning and capabilities. In this step, we assess everything we can in regard to your current situation. Then in order to close the gap between current functioning and future success, we need to Design Solutions.
Step 3 - Design Solutions
Whether the assessment reveals opponents to the improvement of processes or people, we will design a solution to strengthen the bench and breadth of your leadership, as well as align your organization toward a shared vision.
Step 4 - Train, Coach, Facilitate
At this stage, we work with teams or individuals and use a series of specialized trainings and workshops, facilitated strategies and executive retreats, as well as team or individual coaching in an effort to engage employees, managers and leaders, inciting the requisite change.
Step 5 - Integrate Results
Integrated results help achieve a greater momentum of creativity, innovation, productivity and focus by aligning corporate and departmental goals as well as maximizing the capabilities of your organization as a whole. One of our unique offerings, the Next Level Leadership Program, is an example of an integrated process that includes management training, individual coaching and cross-functional team coaching. The results achieved are both individual and group-wide, moving your business to the next level.
Step 6 - Reassess to Measure Success
We aren't satisfied with the results until we reassess and ascertain that we have enabled you to achieve success in terms of the goals you defined. As partners in your success, we want to measure the results of our efforts and celebrate your achievement.