Strategies For Managing Change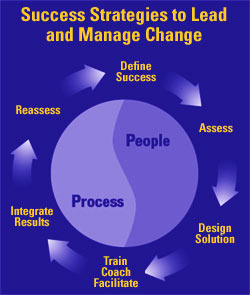 Every business must experience change in order to continuously grow, innovate and succeed. As a result, its crucial to invest in the growth of your leaders and employees assets that are highly personal to your unique line of business. That is why we develop a customized change management program that specifically addresses the challenges and goals of your organization.
Change Management Program
Our change management program helps your company define its measure of success and identify areas for improvement. In addition, our experienced consultants personally design a change management program that helps your company reach both its short-term and long-terms business goals.
By assessing your current capabilities as well as the individual areas needing development, we are able to construct a personalized coaching and training program that enables your company and its leaders to successfully manage change indefinitely. Just to make sure, each program ends with another assessment, reviewing the progress your company has made as the result of our training.
Strategies For Managing Change Success Story
The economy and industry trends required a nonprofit organization to make changes in its programs, roles and responsibilities. As a result, low morale and backbiting became the norm.
The solution took place in three steps. First, we performed an employee assessment to determine individual capabilities and gauge attitudes. We then conducted a leadership workshop to introduce the tools of leading and managing change. Finally, everyone participated in an All-Company Change Management Workshop, where they learned the tools of change resilience.
Leaders learned key strategies for engaging employees during change as well as the critical issues that were at risk during these transitions.
Morale increased, grounded in the shared commitment of the organizations future and each individual's role and responsibility in achieving success.
Read Our Client Testimonials