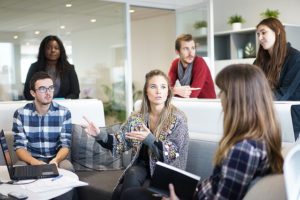 Well-organized teams help companies and their individual departments reach their goals and aspirations on time, every time. Whether its an executive team, a departmental team or a cross-functional team, without cohesion among the group, there are no results.
A cohesive team will lead your company to success, achieving sustainable and highly-measurable results.
At Atlantic Consultants, were here to help you generate that cohesive spirit within your corporate culture.
Our team building workshops help your teams perform to their maximum potential, improving collaboration, the combination of individual skills as well as increasing communication among team members to achieve outstanding results.
With each workshop individually prepared to address your companys specific needs and goals, participants take an online assessment and are personally interviewed by our consultants. In doing so, we are able to create a personalized experience that ensures the information is specific, relevant and helpful to your company.
Upon completion of our teambuilding workshop, teams and their individual members will be able to:
Deal more effectively with each other
Improve team culture to achieve exceptional results
Identify interpersonal communication blockers that prevent team success
Modify communication and interpersonal styles to increase team effectiveness
Team Building Success Story
A customer service team was having difficulty with communication. Fires du jour were the norm. In addition, they had no system or procedure to streamline communication or address customer concerns. As a result, conflicts were ubiquitous. This scenario is unfortunately all too common in teams that spend time on conflict or conflict avoidance. They are not able to deliver on time and are equally unable to produce the highest quality product, resulting in low morale, customer complaints and a decrease in return on sales.
Through a retreat and team coaching, we helped develop the skills necessary to succeed as a team, including communication collaboration, accountability and trust.
Increased project delivery results as well as a higher level of employee engagement and customer satisfaction.
Higher customer satisfaction, boosting sales and referrals.
Read Our Client Testimonials