December 1, 2018
/
/
Comments Off

on How to Develop Your Leadership Pipeline
How to Develop Your Leadership Pipeline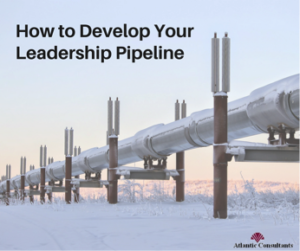 Typically, across every industry people are promoted to managerial and leadership positions because they have excelled in their technical expertise. While technical expertise is one criterion for managing others, it does not meet the more demanding skills of motivating and managing others, creating teams, self-discipline, and empowering others to achieve results. These are leadership skill sets that need to be cultivated to maintain a leadership pipeline.
Developing potential leaders from within the company has many benefits that should be considered.
"Developing your leaders internally will help create loyalty among employees as well as increase retention and morale."
Potential leaders are already known for their work ethic, familiarity with the company procedures and culture, and have valuable experience behind them. In addition, developing leaders from within often increases employee retention, dedication and morale which save HR Directors and the company time and money.
The Role of Human Resources in Developing the Leadership Pipeline
In order to develop the right leaders from within, HR Directors need to know how to select the right person for the leadership role. They must be familiar with how to identify the leadership competencies, traits and skills needed for the position, assess each candidate's leadership potential and create a development program that includes training and coaching.
Creating the leadership pipeline may take some time, but it will pay dividends in the long run for your business. Here are some steps you can take to help narrow down the list of candidates and select the right leader for your company.
Step 1: Identify Leadership Traits Needed for the Position
List all of the leadership competencies and characteristics needed to take the company to the next level and accomplish the strategic goals created in the annual strategic plan. This may include personality, skills (technical and people-oriented), expertise and experience. Feel free to weigh the importance of each.
Here is a list of leadership traits you may want to think about when cultivating the leadership pipeline:
Technical knowledge
Ability to transfer knowledge
Familiarity with office procedures
Inspires and motivates high work ethic
Has mutual respect from fellow workers
Team-savvy
Positive role model
Step 2: Identify Behaviors that Achieve Results
Breakdown these competencies and characteristics into behaviors that achieve those results. The following chart shows an example of what you might do.
Competency
Behavior
Inspiring Innovative Ideas
1. Enthusiastically supports creativity
2. Facilitates brainstorming exercises
3. Encourages non-traditional thinking
Self-Discipline
1. Stays organized
2. Is self-motivated
3. Completes tasks on time
4. Is results-oriented
Inspires and Motivates
1. Helps others achieve recognition
2. Sets standards of performance
Team-Savvy
1. Shares limelight with the team
2. Encourages collaboration
People Skills
1. Has strong communications skills
2. Maintains a positive attitude
Self-Management
1. Maintains integrity in all aspects
2. Upholds organization
3. Remains trustworthy
4. Stays disciplined
Step 3: Selecting the Right Person with Leadership Potential
In the next step, apply the information you have gathered about the leadership role in your company and see how your candidates match up.
Assess each candidate as a potential leader against those required competencies, characteristics and behaviors. Rating each of the previous traits on a scale of 1-10 may help.
Multiply their scaled scores by the weight of each characteristic.
Decide which person matches most of the needed areas to grow the company and fit into the desired leadership role.
Interview each of the top candidates (link to previous post about interviewing) and ask them about their personal goals for their own professional development.
Utilize behavioral interview techniques to assess how they have dealt with areas of conflict in the past.
Choose the candidate who has the same goals as the available leadership position and who matches the required criteria.
Step 4: On-boarding: Developing and Training the Selected Leader
Once you have selected the right candidate for your leadership position, make sure that you help them ease into their role. Often the selected leader will need to be trained and developed until they are ready to assume their new role as a leader.
If the prospect does not match all the required areas, list 3-5 areas for growth.
Create training modules and coaching that target the acquisition of those skills and behaviors.
Coach leaders on how to amend and change their behaviors, skills and characteristics.
Find someone who can both train and coach your leaders if you cannot do either.
For each area of growth, create specific achievements that indicate that they have developed those skills. For example, a measured benchmark of success usually insures a higher probability of achieving a goal. Be sure to include an estimate of time for each benchmark.
When it comes time for your company to grow and for you to fill that leadership vacuum, remember to follow these steps in order to bring your company and its leaders to the next level of success. Developing your leaders internally will help create loyalty among employees as well as increase retention and morale. Your new leaders will already be familiar with the company's procedures and culture. Once given the proper training and guidance, your new leaders will be ready to bring your company through its growth period.