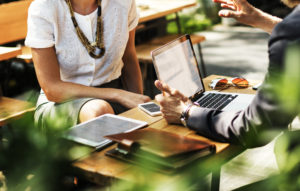 Bringing on new partners creates challenges and opportunities. We have developed an assessment and partnership alignment proven to help avoid the regret of bringing on the wrong partner.
Partnership Assessment Success Story
One of our key clients was considering bringing in a partner to the business. Previous attempts had ended badly.
Step 1: After he had met with the candidate for an initial conversation, we began the Assessments, which included a DISC Assessment and a Pre-Partnership Analysis assessment. After analyzing the results we met with him and developed the behavior assessment questions to do the behavioral interview.
Step 2: The behavioral interview revealed that there was a gap in values and work ethic that might cause future conflict.
Step 3: We used the team interview and role play to further challenge this gap. With pre-designed score cards to objectively assess this person's skills, communication style, and self management, the team assessed that he was not going to be an ideal fit. The ROI of this was over 15 times the investment.
They decided on moving forward with partnership.
The new partner has made a significant impact on the company's growth and has helped develop the staff to a new level of competence.
Read Our Client Testimonials