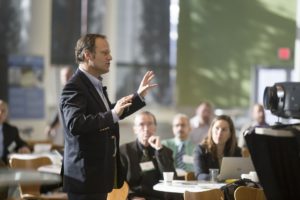 Have you promoted leaders based on individual performance or technical expertise only to find they were unable to lead and manage in a way that multiplied those achievements? Do you wonder why people join companies but leave managers?
Are any of these challenges a concern for you:
Lack of engagement?
Low morale?
Employee attrition?
Employee burnout?
Decrease in productivity?
Conflict and communication issues?
Succession indecision?
Accountability?
Lack of goal achievement?
The success of any endeavor starts at the top, with effective leaders who promote higher performing teams and produce noticeably better results.
Specialized Leadership Development
We specialize in developing leadership strategies that inspire success and sustainability through an impassioned workforce. To do so, we assess, train and coach your leaders to leverage their teams capability ensuring growth, continued innovation and the realization of your organizational priorities.
By cultivating a positive internal culture, we help your company succeed by promoting effective leadership throughout. By integrating critical communication skills, self-management and the tools of effectively managing others, we develop an organizational resilience to change, positioning you for the future.
Leadership Development Success Story
A specialized manufacturing company was growing quickly. Technical experts became managers and leaders without any training. Growth began to slip as morale and conflicts punctured the culture and customers started complaining. Retention of key employees and results were on the line.
The Next Level Leadership Program. Emerging leaders participated in a year-long program that provided each with a 360 and DISC assessment to target blind spots. Within this program, we provided individual and cross-functional group coaching and 12 management training modules supplemented by articles and books on management, as well as our workbook: Success Strategies. We also ran workshops for the customer service department to increase customer satisfaction.
Retention was no longer a problem and products were delivered on time and on budget. Managers began to feel competent about leadership capabilities and changed parts of their leadership styles. Several graduates of the program went on to higher positions, including: COO, shop foreman, customer service director and VP of sales. The company won several awards for Best Places to Work and Mentoring.
Company grew 50% in 3 years!
Read Our Client Testimonials